Discussion Topics
Life Insurance, Health Plans and Living Benefits
As a single person you may have no financial dependents. However, when you have a family, two or more people will depend on your income for their financial security. Without your income, due to an unexpected death or disability, your loved ones may have to sell assets for their financial survival. The information session discusses the options available to you for all your insurance planning. Topics include term insurance, whole life insurance, mortgage insurance, disability insurance, critical illness insurance, children's insurance, and health insurance plans. Also, if applicable, commercial owned business Insurance.
ARE YOU PAST THE BABY STAGES and want more specific information about Life Insurance, RSP's, Health Plans or Living Benefits?
Click here to BOOK A FREE APPOINTMENT.
Registered Education Savings Plans (RESPs)
Learn the facts about RESP's and how to apply for the FREE Government grants, (up to $9200) per child. The content covers common questions such as: What is a RESP? Can my child attend University/College outside of Canada? What if my child does not go to post-secondary school? How is the money invested and disbursed, and what types of programs can my child take? Is there potential to lose money? What are the tax implications? In the session, we will answer these questions and more.
Retirement Savings Plan (RSP)
Managing your risk profile become more important when you have more dependents. Re-assessing your RSP options with a growing family is a crucial component of your financial future. Various retirement saving options will be discussed.
Maternity Leave and Parental Leave
Being able to take time off from work and stay home with your new baby is an exciting time. During the seminar we discuss maternity and parental leave benefits, how much you can expect to receive, who is eligible and how to apply. This topic gives families an overview of the benefits that are available to you and/or your partner during your maternity or parental leave.
How much does a baby cost?
Many new parents have stated that after the overwhelming experience of childbirth, the shock of the monthly cost of raising a baby becomes a reality. In the session, we provide you with essential information to help you create a financial plan to prepare for the new monthly costs of having a baby. The interactive class covers the various expenses associated with a new baby such as nursery items, travel and household necessities, clothing, diapers, formula, and childcare to name a few.
Living on a reduced income
When you go on maternity and parental leave, your income will go down significantly during that time. Budgeting and planning become a key component to helping you get prepared. Review tips and learn strategies to be financially savvy and creative. When you are having a baby, the sooner you can set your budget and get prepared, the easier it will be for you once baby arrives.
CCB (Canadian Child Benefits)
Now that you are having a baby, you may receive FREE Canadian child benefits to help you with the cost of raising children. This helps, especially when your income is reduced while on maternity leave. Learn about the various government monthly benefits available to qualifying families. During the seminar, we discuss the CCB, the amount you can estimate to receive, and how to apply. Review of other potential benefits such as the Child Disability Benefit, the Alberta Child and Family Benefit and the GST credit.
Birth Certificates and SIN Number for baby.
There are many things to do once you have a baby. This class provides new parents with the information required to apply for baby's birth certificate and SIN and offers discussion on why they need a SIN number.
Wills, Power of Attorney (POA), and Personal Directive
Once you have children, a will is a high priority! The session covers the top 3 reasons for a will, the different types of wills, and the options of adding a Personal Directive and Power of Attorney (POA). These documents are of of high importance and are put in place to ensure that your estate is handled according to your wishes by your assigned executor, your children are taken care of by the chosen guardian, and your financial and health related concerns are addressed and properly managed in the event of a death, or if you are unable to make decisions yourself.
* This is general information about wills, power of attorney and personal directives and we recommend a legal professional to assist you in preparing these documents.
Testimonials
Great session!  Outstanding cheesy jokes!!
- Matthew T
Meet The Presenters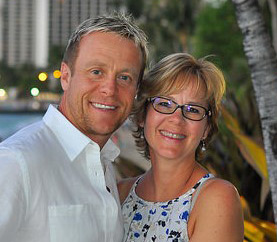 For close to twenty years, Gordon and Laurie Branden have been offering the Budgeting for Baby class free of charge. They are both licensed sales representatives of Registered Education Savings Plans. Additionally, Gordon is a licensed Financial Security Advisor specializing in Life Insurance, Retirement Savings and Living Benefits (including disability, critical illness and health plans). Together the presenters have been providing resource information on a variety of topics relating to budgeting for growing families.